Best Practices For Wound Care Documentation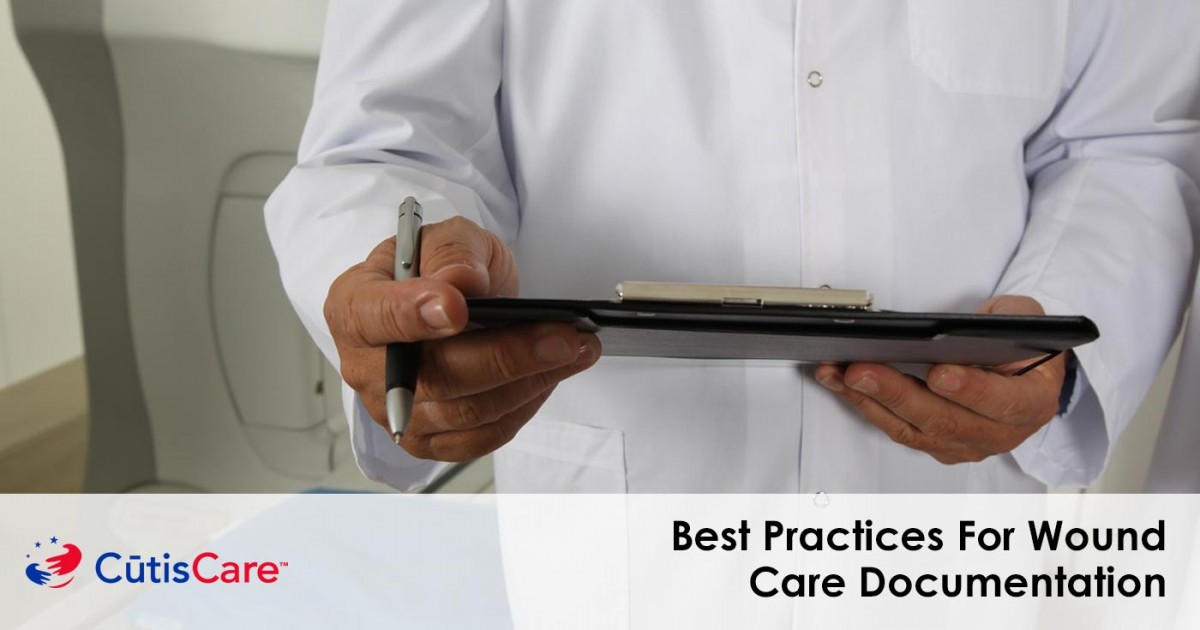 Best Practices For Wound Care Documentation
Reading Time: 2 minutes
Did you know that up to 20% of all legal medical claims in the United States are wound-related? This is a scary thought for hospitals and clinicians alike who work to heal wounds on a daily basis.
Any efficient hospital will take the time to systemize their wound care strategy so that everything works in a smooth and efficient manner – from admitting and correctly documenting the wound, to patient aftercare.
Wound care relies on educated and trained staff who understand wound care management and the processes that are needed to take the best care of the patient without incurring unnecessary hospital costs.
At the foundation of effective wound care is wound documentation.
Wound Care Documentation Best Practices
There are a few best wound care practices that all hospital staff should be well-informed of. These include, but are not limited to;
Accurate visual description describing the type of wound as well as its size, location, stage, tissue type, color, etc.
Conduct a pressure injury risk assessment.
Use precise language regarding communications with any other personnel.
Continue to include pertinent patient information – especially when the wound category changes.
Document the patient's behavior, especially when non-compliant or refusing treatment.
Accurately distinguish end-of-life wounds from pressure injuries or other wounds.
When these best practices for wound care documentation are not followed, mistakes can occur.
Common Mistakes in Wound Documentation
Without following best practices, countless costly mistakes can occur. Some of these mistakes include:
Documenting every wound as a pressure injury.
Interchanging the term 'sacrum', 'coccyx' and 'buttocks'.
Accurately identifying wounds on admission.
Confusing positions, especially left and right.
The lack of a consistent system for documentation.
Improperly documenting wound size.
Not acting on risk assessments that put the patient at risk.
Irresponsible communication of wound care status to a family member.
How Can a Wound Care Management Company Help?
With a variety of wound care strategies and medical advancements to help with wound care, including hyperbaric oxygen therapy, documentation has become increasingly important.
Support for Staff

Hospitals are sometimes understaffed and nurses are overworked which introduces potential problems when it comes to the foundation of wound care. For example, giving superficial assessments or mixing up terminology.

Wound care management companies, such as CūtisCare, help alleviate this pressure on staff by providing support to partner hospitals. By working as an extension of our partner hospital's administrative team, as well as supporting the hospital patient care team.

Education

Arguably one of the most important fundamentals of an effective hospital is the education and expertise of the staff. With ever-developing medical advancements and constant new research, it can be difficult to stay at the forefront of the medical industry.

In addition to practically supporting staff, CūtisCare also offers online education that allows for the continuous education of physicians and clinicians in partner hospitals.

Teams can choose from a variety of nationally accredited hyperbaric and wound care courses. In this way, CūtisCare works together with hospitals to ensure the highest clinical standard is met – including the area of wound documentation.
Reduce Wound Documentation Mistakes
When wound documentation mistakes are kept to a minimum, hospitals are more effective, and unnecessary expenses are saved and reputations are kept strong.
As a wound care management company, CūtisCare proudly works together with hospitals to achieve best practices in wound documentation through both support and education.
Contact us on 561-289-6827 to find out how we can work together to better improve your wound documentation.