CūtisCare Is Donating HBOT Chambers To Aid Patients With COVID-19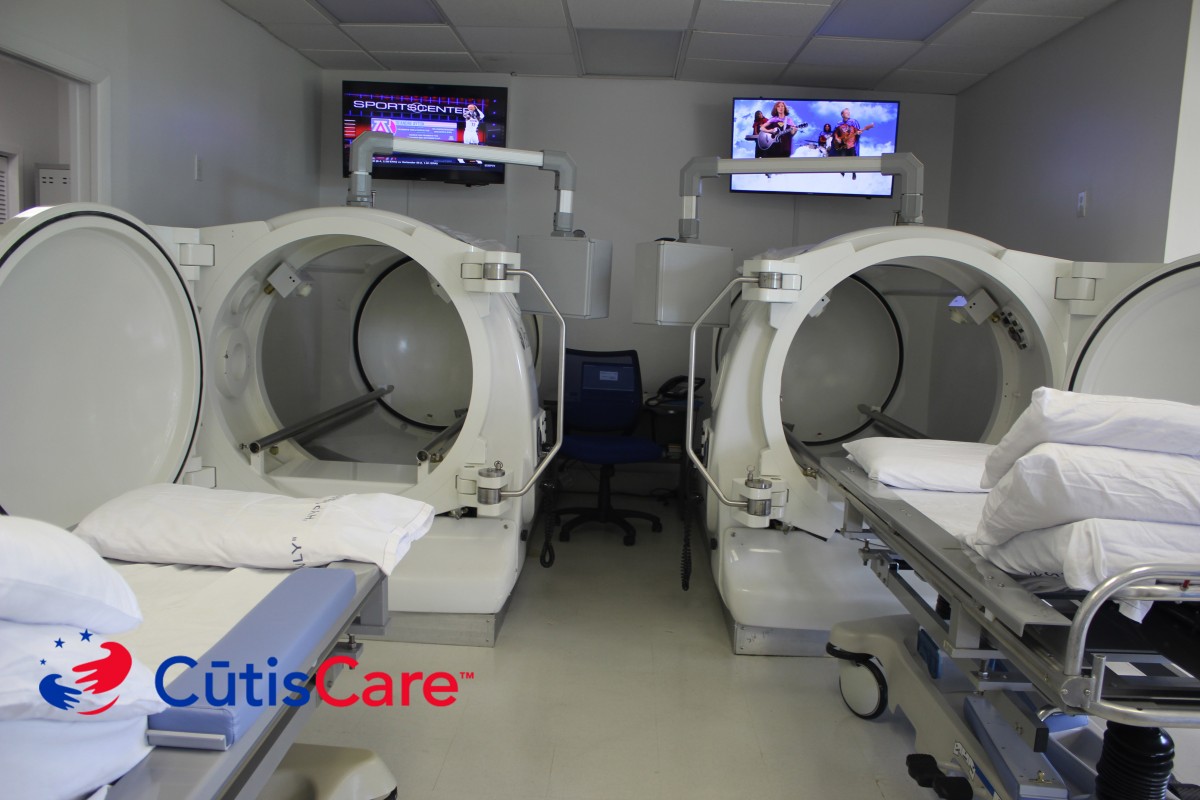 CūtisCare Is Donating HBOT Chambers To Aid Patients With COVID-19
Reading Time: 3 minutes
With so many healthcare professionals on the frontline of the COVID-19 pandemic, CūtisCare™ is stepping into the forefront to help provide an additional treatment option.  CūtisCare manages outpatient-based hyperbaric medicine and wound care centers in 15 states and currently partners with some of the nation's most recognized acute care hospitals.
CūtisCare is currently working with UC San Diego Health on an approved NIH research trial, Safety and Efficacy of Hyperbaric Oxygen for ARDS in Patients with COVID-19, with the objective to evaluate if hyperbaric oxygen therapy (HBOT) reduces the number of admissions compared to best practice for COVID-19.
To evaluate if HBOT:
Reduces the mortality in severe cases of COVID-19
Reduces the morbidity associated with COVID-19
Reduces the load on ICU resources in COVID-19
Mitigate the inflammatory reaction in COVID-19
CūtisCare is looking to provide two large Perry 40" Hyperbaric Chambers for compassionate use in the treatment of COVID-19 patients at a large acute care hospital that is currently experiencing high admissions of COVID-19 patients with the expectation that the hospital also pursues an IRB supported study. CūtisCare would provide expertise and assistance with the relocation and implementation of the hyperbaric chambers.
 We are all concerned about our community, doing the right thing for patients and improving their outcomes. Hospitals, physicians, and staff are constantly searching for low risk, evidence-based treatment options for their patients.  Currently, there are numerous documented cases where hyperbaric oxygen therapy has resulted in superior outcomes in treating COVID-19-related hypoxemia versus alternatives treatments such as ventilation and intubation. Below is a compilation of some of the recent news posts.
ClinicalTrials.gov
Compassionate use and IRB for Hyperbaric Oxygen Therapy as a treatment for COVID-19 have begun with the majority recruiting.  To date, there are six clinical trials for hyperbaric oxygen therapy in the treatment of COVID-19 on the website.
At Opelousas General Hospital, Dr. Kerry Thibodeaux and Wound Care Center team are using hyperbaric oxygen therapy with success on COVID-19 patients.
Dr. Thibodeaux states, "When weighing the risks to the patient and the potential for intubation, hyperbaric oxygen therapy was determined to be a far better option for those meeting criteria."
Dr. Amer Raza, Pulmonary Critical Care Physician, states, "We have seen some symptomatic improvement in our patients, and we also hope to prevent intubations in that subset of patients meeting criteria for this therapy."
COVID-19 positive patients (n=5) at a single institution. Hyperbaric oxygen therapy prescribed to prevent the need for mechanical ventilation. Patients received between one and six treatments in a monoplace chamber.   At 2.0ATA for 90 minutes.
Results: All patients recovered without the need for mechanical ventilation. Following HBOT, oxygen saturation increased, tachypnoea resolved, and inflammatory markers fell.
Dr. Caroline Fife posts a blog diary about her experience treating COVID -19 patients. In this five-part series, Dr. Caroline Fife shares hyperbaric oxygen therapy has shown an N=10 in its success treating COVID-19 at 2 ATA.
Dr. Fife states, "I continue to be amazed at what an opportunity this is, that I have been allowed to participate.  The environment is very supportive and recognizing how incredible HBOT is for COVID-19. The alternative of NOT treating them is not acceptable."
 The article states that recently published data suggests ventilators may not be as effective in keeping
COVID-19 patients alive as they are with other patients with severe respiratory problems.
"In New York, 88% of 320 Covid-19 patients placed on mechanical ventilation in the state's Northwell Health System died," according to a study in the Journal of the American Medical Association. "Of the 2,314 who did not receive mechanical ventilation, 11.7% died."
There are risks for being on a ventilator for too long. Stating, "Patients can get secondary infections like bacterial pneumonia. They can get urinary tract infections from being bed-bound and are at higher risk of kidney failure and getting blood clots."
Wound Care & Hyperbaric Management Experts
If you are a large acute care hospital experiencing high admissions of COVID-19 patients and are interested in helping patients in your community experience significant symptom improvement seen elsewhere when treated with hyperbaric medicine, please contact Robert Bauman, President of CūtisCare at or call 561-289-6827.
About CūtisCare
Headquartered in Boca Raton, Florida, CūtisCare™ works with hospitals, academic medical centers and hospital systems to design customized outpatient wound care and hyperbaric oxygen (HBOT) solutions. CūtisCare collaborates with its partners to reach and heal people with chronic wounds and other severe conditions. CūtisCare's senior management team has over 60 years of experience developing outpatient wound and hyperbaric medicine programs.
CūtisCare is patient-centric, compliance-driven, and committed to advancing the field through research.  We focus on delivering cost-effective care in each local market, making us the trusted clinical partner of choice. Our customized models designed to provide improved outcomes and better operational and financial performance while supporting industry-leading "bench to bedside" wound care research.  The senior management team has conducted eight research sites throughout the United States and supported over 20 research clinical trials. Our vision is to deliver industry-leading wound management solutions that demonstrate measurable excellence for our customers and your patients.