CūtisCare Welcomes Dr. John A. Guerriero III, DO RPVI to its Esteemed Medical Advisory Board

BOCA RATON, Fla., Oct. 11, 2023 /PRNewswire/ -- CūtisCare LLC, a leading provider of specialized wound care services, is thrilled to announce the latest addition to its esteemed Medical Advisory Board, Dr. John A. Guerriero III, DO RPVI; a distinguished vascular surgeon, and Medical Director with over 15 years of exemplary service at the Comprehensive Wound Care Center in Berwick, PA, renowned for his exceptional leadership, unwavering dedication, and outstanding commitment to patient care.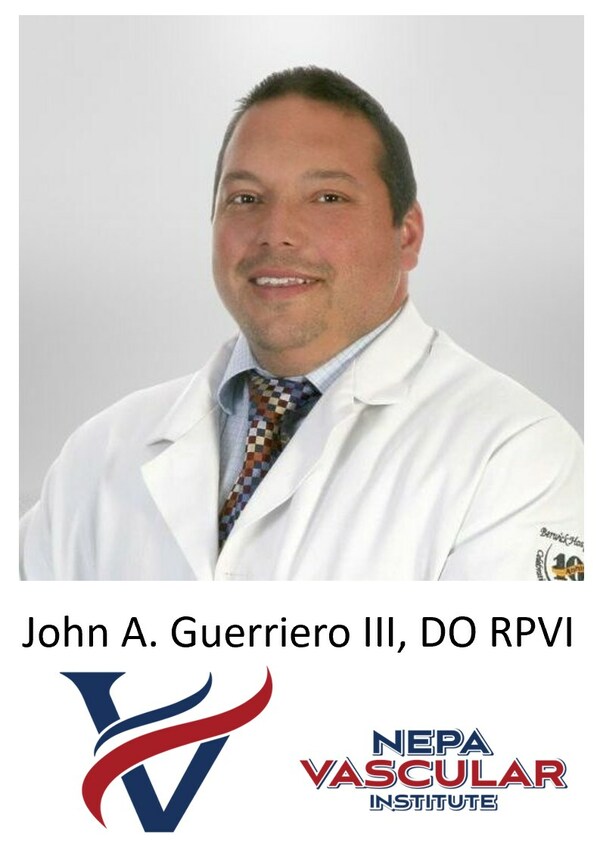 During his tenure as the Medical Director of the Comprehensive Wound Care Center, Dr. Guerriero's extraordinary contributions have led the Center to earn the coveted distinction and Center of Excellence recognition for more than a decade. His passion for limb preservation, expertise in endovascular procedures, and profound knowledge in wound care have solidified his reputation as a true authority in these specialized areas of medicine. Dr. Guerriero's commitment to delivering personalized care and staying abreast of the latest medical advancements underscores his dedication to improving the lives of his patients.
"We are honored to have Dr. John A. Guerriero III join our Medical Advisory Board. His wealth of expertise and unparalleled dedication to advancing wound care align seamlessly with our mission at CutisCare," said Dr. Juan Bravo, MD, CutisCare's Medical Advisory Board Chairman. "Dr. Guerriero's inclusion strengthens our commitment to excellence, innovation, and the highest standards of patient care."
As a vascular surgeon and Medical Director, Dr. Guerriero has consistently demonstrated a profound commitment to staying at the forefront of medical advancements, ensuring that his patients receive the most advanced and effective treatments available. His invaluable insights and deep knowledge in the field will undoubtedly contribute significantly to CutisCare's ongoing mission to provide exceptional wound care services. With Dr. Guerriero on board, CutisCare reaffirms its dedication to thought leadership, best practices, and the relentless pursuit of excellence in the specialized field of wound care.
About CūtisCare
Headquartered in Boca Raton, Florida, CūtisCare works with hospitals, academic medical centers, hospital systems, and physicians to design customized outpatient wound care and hyperbaric oxygen (HBOT) solutions. With more than 25 years of management experience, a commitment to research, and driven by ethics and a culture of compliance, CūtisCare collaborates with its partners to reach and heal people with chronic wounds.