Incorporating Telehealth Into Your Wound Care Strategy During COVID-19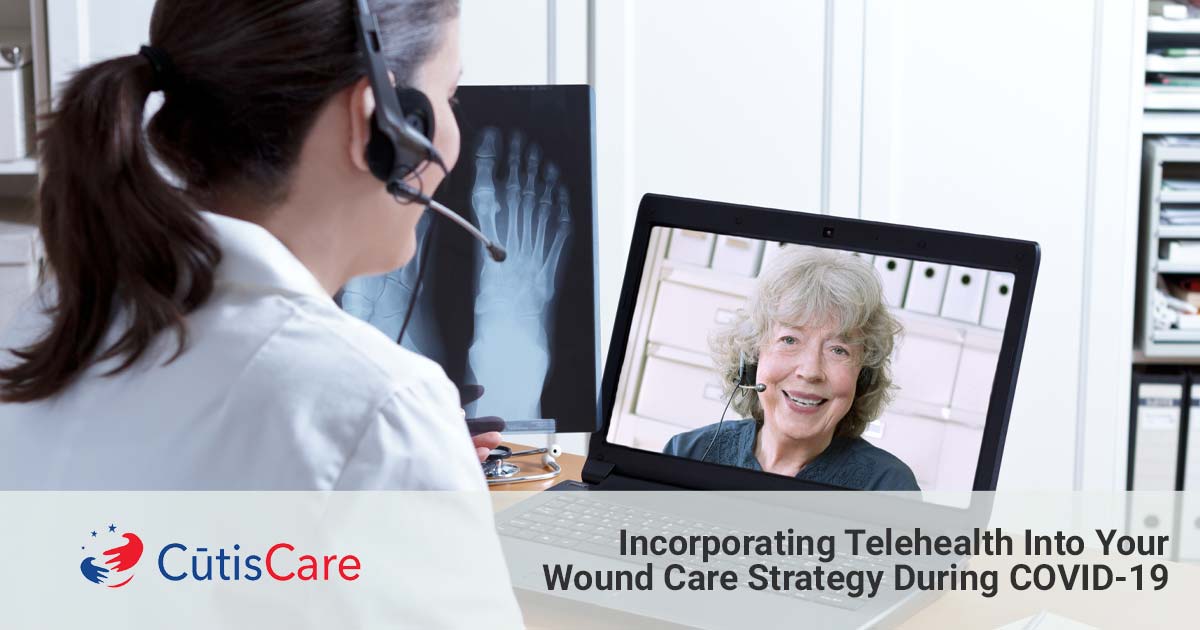 Incorporating Telehealth Into Your Wound Care Strategy During COVID-19
The healthcare industry has always been dedicated to providing safe and sterile conditions for patients, employees, and visitors; so, when this pandemic demanded extra attention to cleanliness and required adapting logistics for social distancing, hospitals and wound care centers were ready.
Even with safety protocols in place at healthcare facilities, patients today might not feel comfortable visiting with their physicians or other providers. The worry of exposure isn't necessarily tied to being in a medical office, but rather it could lie in using public transportation, requesting a ride from a friend or family member, or another risky situation they could encounter between home and appointment.
What if that location was home? Telehealth can be a welcome addition to your wound care strategy during COVID-19. Here, we'll discuss how incorporating this delivery method allows your patients to receive necessary and proper care during these unprecedented times.
Understanding Telehealth & Incorporating It Into Your Wound Care Strategy
Telehealth isn't new, but it's a fast-growing, emerging segment of healthcare. This innovative care delivery method has been increasing in popularity for several years, but interest has skyrocketed in the COVID-19 era. In fact, Definitive Healthcare reports a 9,596% increase in telehealth claims between January 2019 and April 2020.
Wound care centers are likely to see customers requesting–even expecting–this option. Let's take a look at how this might benefit your operation.
Telehealth Basics
Aptly named, telehealth is a care option that allows patients to speak to a medical professional from their home (or wherever they might be temporarily quarantined), either by phone or wi-fi connected device. Video-conferencing is an option, as is a simple, traditional telephone conversation. Calls and conferences can be done in real-time, or images and information can be sent for review, with a reply/evaluation as a follow-up.
The Health Resources Administration defines telehealth as:
….the use of electronic information and telecommunications technologies to support long-distance clinical healthcare, patient and professional health-related education, public health and health administration.
Telehealth differs slightly from another term you might have heard: telemedicine, which focuses specifically on remote clinical care.
How Telehealth Works in Wound Care Strategy
When it comes to implementing telehealth into wound care strategy, you'll find many use-cases where assisting from a distance can be effective and efficient. From a technical standpoint, adopting wound care telehealth into your practice can be a seamless process, easily implemented into your office workflows. For example, CūtisCare offers its partners an innovative software solution that assists with documentation for telehealth visits and dropping charges.
Though not all care can be accomplished through telehealth, this service is becoming essential to hospitals and centers during COVID-19. The Center for Disease Control (CDC) has even updated its website's resources section to include a telehealth primer for medical providers with information about the many benefits of incorporating telehealth and how it can even be a proactive measure to ensure safety.
Benefits Of Adding Telehealth to Wound Care Strategy
Adding telehealth to your suite of services benefits both patients and healthcare providers. Among the many advantages wound care centers and hospitals experience are convenience, cost savings, and customer satisfaction.
Convenience
COVID-19 has introduced many challenges to hospitals and wound care centers and many inconveniences for patients and providers alike. Implementing telehealth into a wound care strategy cuts out the commute and, by nature, it's socially distanced.
Access to healthcare in rural areas has been an on-going challenge in the industry as a whole, so telehealth, during COVID-19 and regular times, has made a world of difference in the quality of life for many patients.
Telehealth also makes it convenient for the healthcare team as they can see more patients than with traditional visits and, in some cases, this also allows employees to work remotely.
Cost Savings
Fewer patient visits typically equates to less revenue for hospitals and wound care centers. Adding a telehealth approach to your wound care strategy in these uncertain times has economic benefits. First, it reduces overhead during a time when you are likely reducing or reallocating budgets. The addition of telehealth could also bring in additional revenue since you might be able to fit more appointments into your regular day, expand hours to accommodate more appointments, or even boost revenue by decreasing no-shows.
Customer Satisfaction
Customer satisfaction is critical to your practice's success. As patients' wants and needs evolve — or in the case of COVID-19, as social norms change — so must your offerings and internal practices. Today, this might mean wearing masks, waiting in the car until it's your turn to be seen, or going into an appointment alone when you'd typically have a loved one along for support. Providing telehealth eliminates some of those constraints and puts the patient much more at ease.
Telehealth Post-COVID
COVID-19 might have boosted awareness and adoption of telehealth, but this service is here to stay: Patients have gotten a taste of its convenience and hospitals and wound care centers have discovered the efficiencies it can bring to the practice. During the global pandemic, we've seen many temporary healthcare industry laws and rules emerge in order to accommodate people during trying times. But what happens next? There's legislation in place to expand coverage, redefine "distant sites," and other aspects that would make telehealth a viable, covered option for wound care and other needs for the foreseeable future.
What is your plan for adapting your wound care strategy to not just COVID-19 times, but to the future of healthcare? CūtisCare is here to talk to you about the benefits of telehealth — and all of your wound care needs. Call us today at 561-289-6827.