November is Diabetes Awareness Month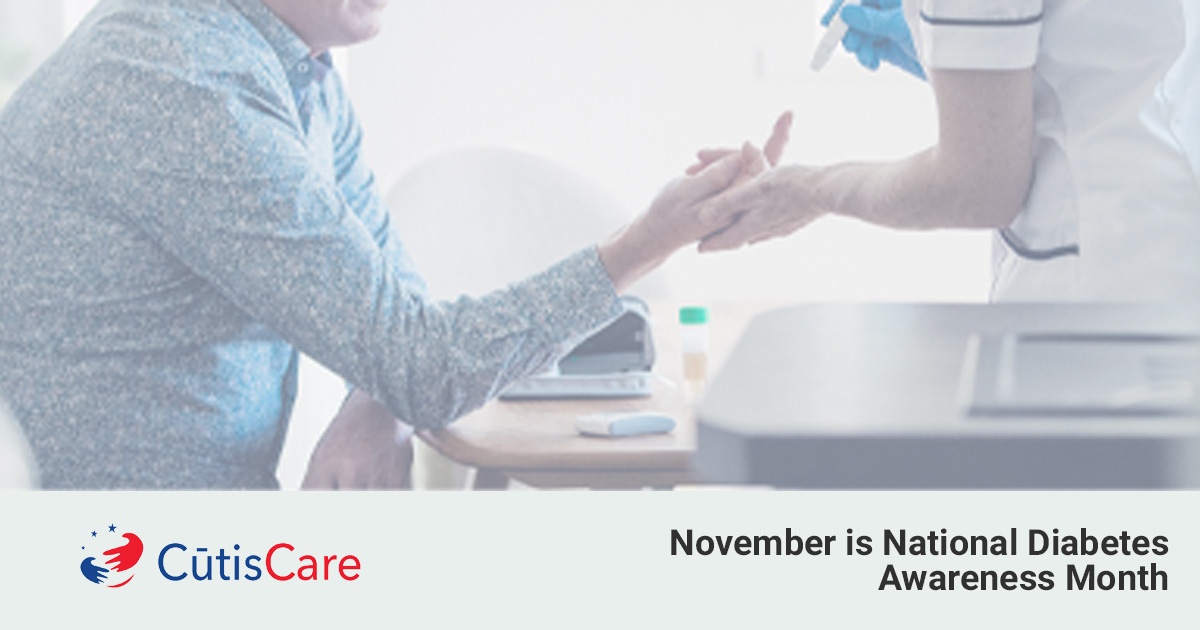 November is
Diabetes Awareness
Month: Here's What You Should Know About Wound Care and
Diabetic Foot Ulcers
More than a third of adults in the United States are reported to be pre-diabetic, and in 2018, the nation experienced 1.5 million new cases of diabetes. Simply put, many are at risk of developing this disease -- more so than any time in modern history.
At CūtisCare, we focus on wound care management every day, week and month of the year, but for National Diabetes Awareness Month we wanted to bring extra attention to this fact: Diabetes is one of the leading causes of non-healing wounds -- and, thus, complications that lead to amputations. However, timely detection of a wound, such as a diabetic foot ulcer, can lower the risk of amputation. 
In this blog post, we'll share some important facts about diabetes, including its impact and reach in the United States, its risk factors and how it relates to wound care. 
Diabetes Awareness
Month: A Primer
Before we get into detail about wound care management related to diabetes, we wanted to share some general information about this chronic disease. The U.S. Department of Health and Human Services Centers for Disease Control and Prevention (CDC) publishes an annual fact sheet, and according to the 2020 National Diabetes Statistics Report: 
10.5% of the U.S. population

has been diagnosed with some form of diabetes -- that is more than 34 million people (2018)

34.5% of U.S. adults -- or

88 million people -- had prediabetes

between 2013-2016

210,000 children and adolescents

have been diagnosed with diabetes, including 187,000 with Type 1

Diabetes was the

7th leading cause of death

in the United States in 2017

Diabetes is the

leading cause of blindness

(in new cases) in adults

$317 billion

was the total direct and indirect estimated costs of diagnosed diabetes in the United States in 2017

In 2016, there were

16 million ER visits

with a reported diabetes diagnosis
Additional figures from the American Diabetes Association (ADA) show: 
A person with diagnosed diabetes at age 50

dies six years earlier

(on average) than their peers without diabetes

85% of people with prediabetes

don't know they have it
58,000+

people start treatment for

kidney failure

due to diabetes each year

Individuals with diagnosed diabetes have healthcare costs

2.3 times higher

than someone without diabetes
Diabetic Foot Ulcers
& Other Wounds: What You Should Know
Specific to diabetes and wound care, it's important to know risk factors of the disease itself, to understand complications of diabetes and how to spot symptoms of new or worsening conditions. Here's why: 
2 million+ people in the United States are living with limb loss -- and that number is expected to double by 2050 (source)

More than 60% of nontraumatic lower-limb amputations occur in people with diabetes (ADA)

Each year, more than 130,000 nontraumatic lower-limb amputations are performed in people with diabetes (ADA)

People with an amputation have a 50% mortality rate with five years (source)

About 25% of all people with diabetes will develop a

diabetic foot ulcer

(source)
It's also worth noting that foot ulcers can adversely affect someone's gait, which could lead to falls -- and a greater risk than the rest of the population to experience medical complications related to a fall or fracture. 
How to Prevent a Diabetic Foot Ulcer
Diabetic ulcers can affect various areas of your foot, including the heel and toes. Along with these sores can come neuropathy, peripheral artery disease and deformities such as Charcot foot, all of which could cause nerve damage, reduced blood flow, numbness and weakness. 
To help people with diabetes reduce the risk of developing a diabetic foot ulcer, CūtisCare and our network of wound care centers have a few recommendations:

Annual foot exam by your healthcare provider

Daily inspection of the feet (by you or a loved one)

Regular care of your feet and toenails (and taking care of calluses or corns)

Keeping feet dry

Wearing supportive, proper shoes and socks

Eating healthier and exercising regularly 
The World Health Organization estimates that 80% of amputations are preventable; so, again, early detection is so key.  
When to See a Doctor for a
Non-Healing Wound
If you have diabetes or prediabetes and you notice a sore forming on your foot, contact your doctor. If you have a wound that hasn't healed within two weeks, you should contact a wound care specialist as soon as possible. 
Non-healing wounds, such as a diabetic foot ulcer, can lead to severe complications, including amputation. That's why timely, proper, advanced wound care management is crucial. Techniques might include removing damaged tissue, relieving pressure (off-loading) from the wound, and controlling infection. 
Diabetes Awareness
: Do You Know the Risk Factors?
Foot ulcers are just one of many serious complications of this disease; it's important to know if you're at risk. Aside from genetic/hereditary factors, risk factors of diabetes are: 
Smoking

High blood pressure

High cholesterol

High A1C (hemoglobin levels)

BMI of 25.0 or higher

Physical inactivity
Are you or a family member at risk? 
The American Diabetes Association reports that when you combine figures of those with diabetes and those who are prediabetic, you come up with about half of the population in the United States. That's why during this Diabetes Awareness Month we'd like to encourage you to be proactive about your health. ADA offers a 60-second Type 2 Diabetes risk test that you may take for yourself or a loved one. >> Take the test
Are you or a family member looking for diabetes-related wound care? 
Our wound care centers specialize in treating a wide variety of complex, chronic and
non-healing wounds
, including those associated with diabetes. >>
Find a wound healing center near you.