Partner Spotlight – Billings Clinic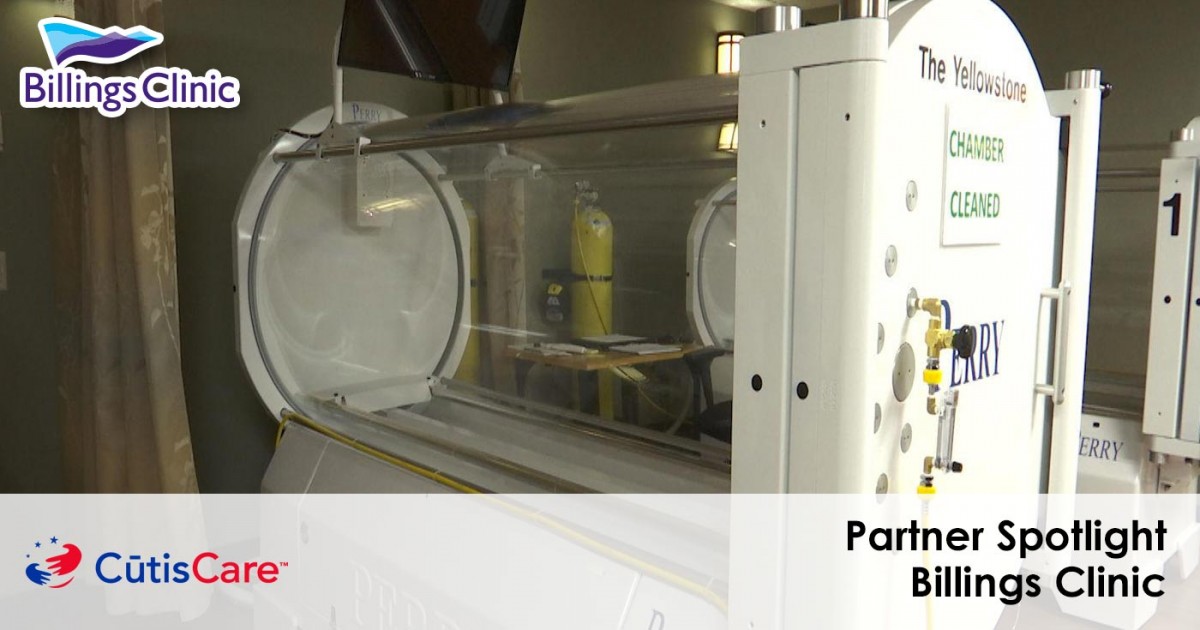 Partner Spotlight – Billings Clinic
Reading Time: 3 minutes
At CūtisCare, we work with various health care centers to provide flexible and customized health care solutions and wound care administration services. A variety of health care centers make use of our wound care resources, ranging from hyperbaric oxygen therapy to web and classroom-based medical education.
Our new Partner Spotlight series focuses on these various partners, highlighting the work that we do together.
Partner Spotlight
One of our medical center partners is Billings Clinic in Billings, Montana who recently made the local news when their outpatient hyperbaric oxygen therapy resources were used to help support the healing process of a local nurse who is also a Billings Clinic employee. The patient worked in conjunction with the Wound Healing and Hyperbaric Medicine department and her primary physician to pursue hyperbaric therapy after her cancer treatment. The story was subsequently aired on their local news channel.
Billings Clinic is a health care center that focuses on helping patients heal from radiation burns, among other specialties. When Billings Clinic nurse, Laurie Wilson, suffered from a severe reaction to radiation therapy, she underwent hyperbaric oxygen therapy to help alleviate the pain.
Now almost completely healed, Laurie remembers the time she was once facing a full mastectomy.
She comments on how amazing it was to see progress throughout her sessions. She checked in with the wound healing team every week and evaluations indicated that her burns and wounds were closing and healing, and the pain was lessening.
Billings Clinic
The Billings Clinic is Montana's largest healthcare organization. In addition to primary care, they also serve over 50 specialty areas, priding themselves on delivering only the highest quality of care, underlined by safety and compassion.
Billings Clinic is consistently recognized on a national level for excellent performance in patient quality, safety, and service. It is these shared ethics that have resulted in Billings Care being one of our CūtisCare partners.
Billings Clinic Services
The physician-led organization offers an integrated multi-specialty group practice with a 304-bed hospital and a Level II trauma center. Their top-class services are performed by approximately 4,000 staff which includes more than 400 physicians and advanced practitioners.
The clinic strives to be a national leader by providing the best clinical quality, patient safety, service and value. This ambition is seen in action through their shared electronic medical records. Billings Clinic manages 11 Critical Access Hospitals and partners with affiliated hospitals across the region.
Their leadership structure is led by physicians, with a physician holding the title of CEO. The organization's 12-member governing board also includes nine community members and two other physicians.
Special Highlights
Billings Clinic holds an array of accolades, achievements and success stories to their name. Not only do they prioritize quality and attributes that contribute to being leaders of their industry, but they also place concern and effort toward helping local communities.
Demonstrating their leadership values, Billings Clinic is the first Montana Magnet® -designated health care organization for nursing excellence and is a member of the Mayo Clinic Care Network. They also launched Montana's first Internal Medicine Residency program in their commitment to advancing education.
As of November 2018, all licensed professionals in the Wound Healing and Hyperbaric Medicine Center are certified in Advanced Burn Life Support (ABLS) thus the clinic recently expanded their service line to include burn treatment and management for first, second degree and post-hospitalization adult and pediatric patients.
Their community outreach efforts include sharing wound healing, hyperbaric medicine and burn educational information with rural communities. The clinic staff travel upwards of 300 miles from Billings to support the needs of rural communities, sometimes by car and many times by air. These areas range in distance to the north near the Canadian border, 150 miles from Billings to the west, south into Wyoming and east into North Dakota.
The clinic expands its reach by providing telemedicine services to multiple locations to accommodate the needs of rural communities who do not have wound care personnel.
Billings Clinic and CūtisCare
CūtisCare proudly partners with Billings Clinic to provide both wound care and monoplace hyperbaric management services. These services include best practices, safety, compliance and operational oversight, among others.
Our flexible and innovative healthcare business models strive to further build Billings Clinic's operational successes.
Our commitment to our hospital partners starts off with a professional consultation. Call us at 561-289-6827 to find out more.