The History of Hyperbaric Oxygen Chambers in Hospitals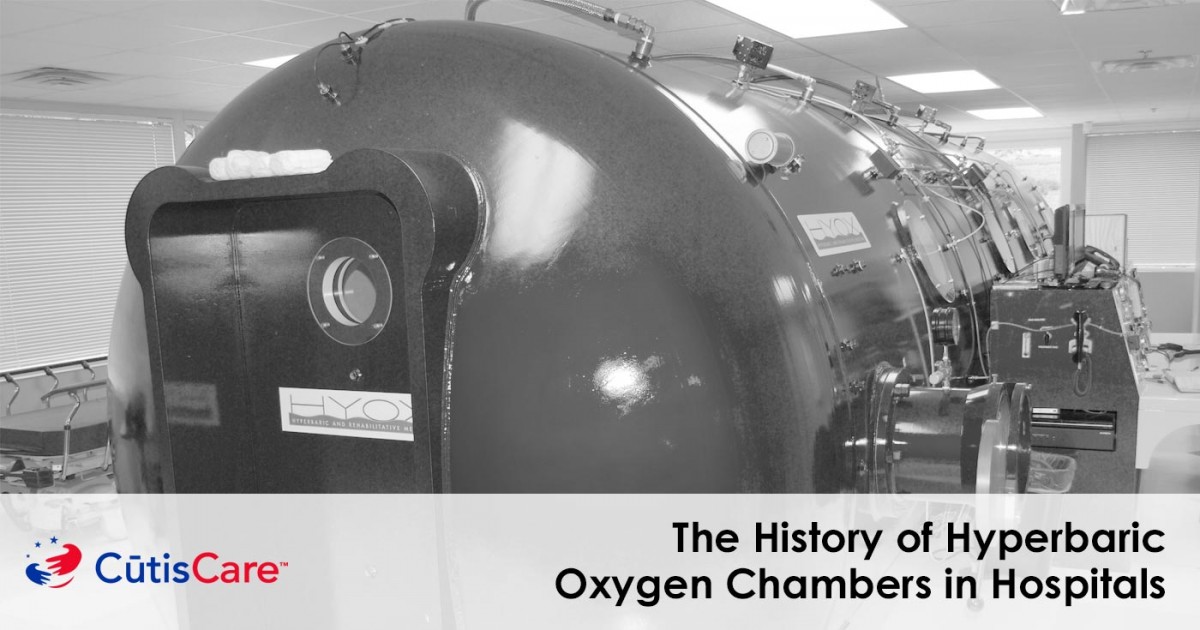 The History of Hyperbaric Oxygen Chambers in Hospitals
Reading Time: 3 minutes
In the past 50 years, Hyperbaric Oxygen Therapy (HBOT) has been used to treat an increasing number of neurological diseases and wounds. The compression chamber that administers the 100% oxygen administered for various treatment plans has undergone development over the years. Do you know how far back the history of hyperbaric oxygen chambers extends?
History of Hyperbaric Oxygen Treatment
Most professionals in the medical industry do not understand how HBOT works as a treatment although there are constant studies being executed on HBOT and the various effects and success of results. Today, approximately 30,000 HBOT treatments are executed globally on a daily basis. This leads to the question of "Where this treatment originated from?" and "What led to the increasing popularity of HBOT in Medicare?"
The change in air pressure was used in the recovery process as far back as the 17th century. Henshaw, a British physician, first used compressed air to treat lung disease in 1662. Subsequent developments were discovered and explored by several pharmacists and physicians over the years which resulted in modern HBOT treatment today.
Some Key Milestones in HBOT History
1772 Oxygen is discovered by Karl W. Scheele, a Swedish pharmacist
1783 Oxygen therapy is reportedly used for the first time by Caillens, a French physician
19th C. Hyperbaric chambers are popularly used as pressurized air baths
1834 The first hyperbaric chamber is built in France
1861 Neurologist James Leonar builds the first hyperbaric chamber in the United States
1877 The first portable hyperbaric chamber is developed
1891 American physicians use HBOT to treat nerve disorders
1956 It is discovered that hyperbaric oxygen can assist with the transport of dissolved oxygen in plasma. This is proven by Ite Boerema who is considered to be the founder of modern hyperbaric oxygen therapy. His studies have become the cornerstone of the history of modern hyperbaric medicine
1960s Oxygen therapy becomes a part of the medical practice. This is largely due to its healing effect on cases of gas gangrene and carbon monoxide poisoning
1963 Amsterdam hosts the first International Congress on Hyperbaric Medicine
1988 The International Hyperbaric Society is established
2004 Hyperbaric medicine becomes an independent medical discipline
Projected Growth of HBOT
In 2016, business analysts estimated the size of the HBOT devices market to be at approximately USD 2.21 billion. A recent report by Grand View Research, Inc. predicts that the global HBOT devices market alone is expected to reach USD 3.91 billion by 2025 with a growing number of healthcare professionals turning towards the form of treatment.
There is a constant growing awareness of the various benefits of making HBOT equipment available for ICU systems. In addition, there is an increase in the demand for HBOT systems in home systems. This increase in popularity is largely due to the rising prevalence of acute and chronic wounds, among other ailments.
Enhance Your HBOT Treatment and Support
The Food and Drug Administration (FDA) has approved hyperbaric chambers for 13 covered medical conditions. In addition, physicians have used hyperbaric medicine for their patients in cases where medical necessity dictates.
As a medical provider, it is important to stay up to date with medical developments. HBOT is developing even further to the point where many patients expect HBOT as an optional treatment. This often requires hospitals to outsource help to manage this demand. When receiving support, it is vital that you partner with a highly trained and knowledgeable organization.
CūtisCare offer flexible and customized healthcare solutions for your wound care and hyperbaric medicine services by setting up a wound care program and offering administrative support.
Additionally, CūtisCare offer an online education program to ensure that your hospital staff continuously enhance their clinical knowledge. Contact CūtisCare today to partner with a professional team that are educated and skilled in HBOT and wound care treatment.