The Importance of a Wound Care Strategy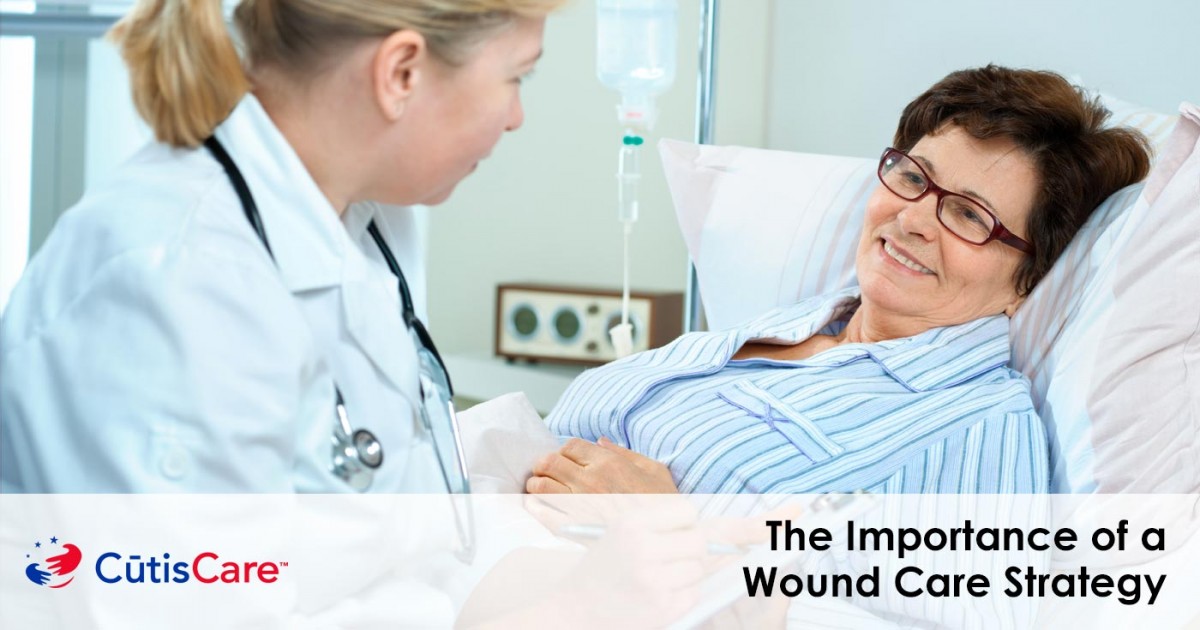 The Importance of a Wound Care Strategy
Reading Time: 2 minutes
Being the largest organ of the body, human skin is responsible for several vital functions including contributing to immunity, temperature regulation, sensation and vitamin production. As a dynamic organ, the cells are constantly shedding and being replaced. With a wound or skin disorder, the functionality of the skin is jeopardized. If wounds are not cared for correctly, they can quickly become chronic or acute. To prevent wounds from developing into a larger problem, wound care strategies need to be implemented.
Basic Elements of Wound Care Strategies
To ensure that all phases of wound healing are complete – namely the inflammatory phase, the proliferative phase and the maturation phase – certain steps in wound care need to be carefully administered. Some of these steps include;
Paying attention to nutritional status of the patient. This will ensure that the patient receives enough vitamins to heal properly.
Consistently remove dead tissue in order for the new tissue to surface.
Maintaining a clean, moist bed of granulation tissue through effective use of moist dressings and disinfectants.
Regularly repositioning a patient with pressure ulcers – ideally every two hours.
Insuring adequate circulation.
Making use of compression systems when needed.
Without regularly monitoring these basic factors in wound care, your patients will remain in the hospital longer than necessary, costing a significant amount of money and putting a lot of additional pressure on staff. However, what happens when your staff is limited?
This is a reality for many hospitals in the United States as the nursing shortage has put strain on the health care system. The good news is that there are wound care management companies that are trained in wound care management and can assist hospitals offer patients a health care solution for wound care. Chronic wound care remains high on the priority list of hospitals and those that partner with wound care specialists find that they can offer their patients a wound care strategy to solve their chronic wound problems.
Partnering with Wound Care Strategy Specialists
Diabetic, bariatric and geriatric patients are at a great risk of developing chronic wounds. With an aging population and increase in obesity rates, the number of wound care patients is predicted to increase significantly.
In addition, hospitals with wound care specialist partners are experiencing effective results with their patients wound care treatment especially strategies that include modern treatments such as hyperbaric oxygen therapy (HBOT).
Wound care specialists are able to focus solely on the providing patients with the latest wound care products, a plan of care, and education to best treat the patient in their unique position. It is a significant advantage to be able to expertly treat patients while keeping them in the hospital where various physicians are easily available.
Incorporating advanced wound care specialists into your wound care treatment center works as a strong market differentiator. The knowledge and expertise that is brought into the hospital is not limited to the team of specialist, but can be shared with the rest of the hospital staff. Specialists such as CūtisCare wish to share this knowledge and empower the hospital. This is one of the many reasons that CūtisCare also offer online education programs for the physicians and clinicians in CūtisCare partner hospitals.
Wound care strategies are an essential part of all hospitals, and support for these strategies will ensure that the theory is executed successfully in practice. Contact CūtisCare for a flexible, customized healthcare solution and an invaluable part of your wound care strategy.