The Solution To Effective Wound Diagnosis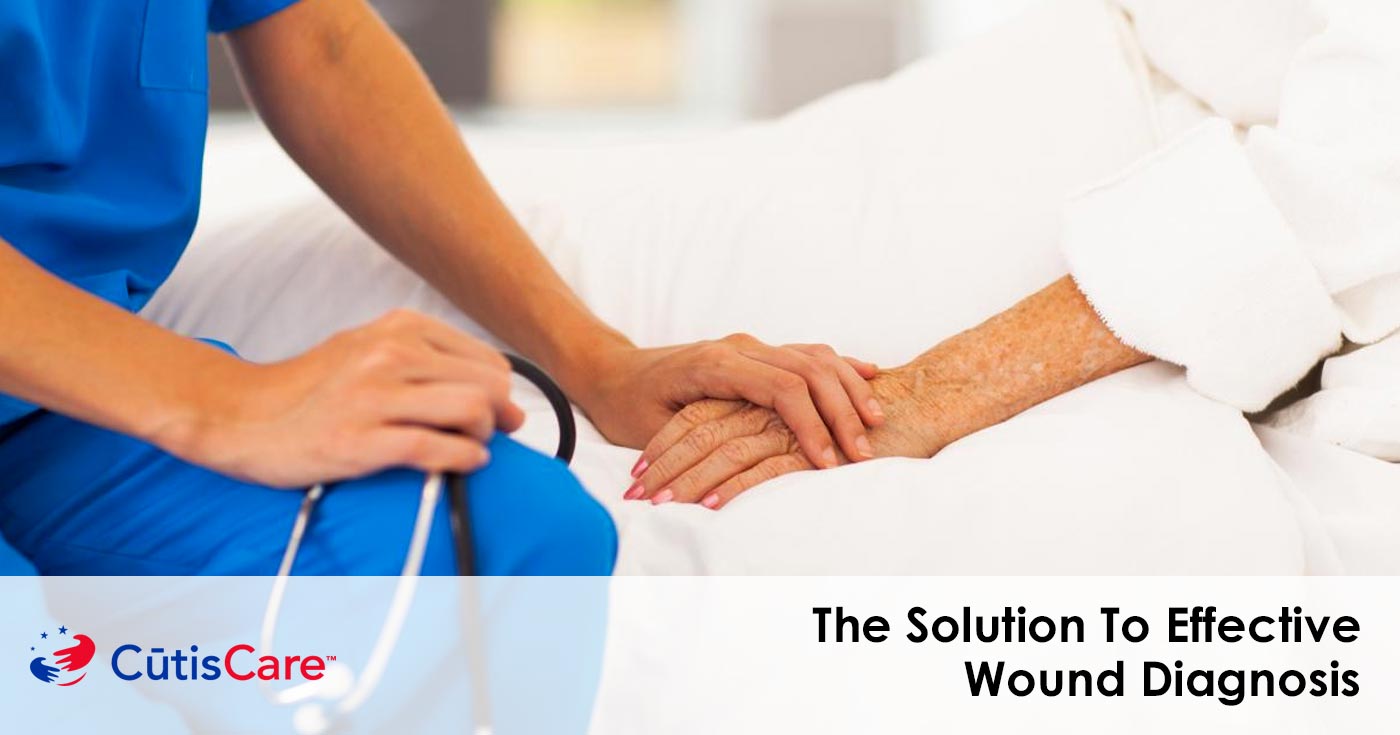 The Solution To Effective Wound Diagnosis
Reading Time: 2 minutes
An in-depth wound diagnosis assessment is vital when ensuring that your patient receives the best treatment for their wound, thereby improving the speed of recovery and reducing the cost to the facility.
Did you know pressure ulcers are the second most common lawsuit in patient care? Wound diagnosis is a foundational step in preventing this by creating an effective wound care treatment plan for patients.
Necessary Steps of Wound Diagnosis
As wound diagnosis is a standard requirement, we have listed some of the necessary steps needed for an effective assessment.
General patient health
Location, dimension and pattern of wound
Color classification
Tissue type
Drainage
Odor
Pain
The condition of the surrounding skin
The above checkpoints are important when determining the type of wound and the appropriate treatment needed.
Difficulties with Wound Diagnosis
Despite advancements in medicine and technology, the number of chronic wounds is expected to continue to rise at an annual rate of 2%. With many health care facilities carrying the burden of clinical, administrative and financial resource restrictions, there is little room for error when diagnosing wounds.
By rushing through wound diagnosis, healthcare facilities are risking the following issues:
Imprecise wound measurement can lead to wounds taking longer to heal and the patient requiring more time in the facility.
Incomplete documentation, combined with inadequate staff training, can result in ineffective wound recovery as well as reimbursement claim denials.
A challenge faced by many healthcare facilities is the lack of oversight that enforces protocol, thereby reducing the standardized quality of work.
The lack of resources in wound care is a risk factor for many healthcare facilities. This is seen in an increasing number of early discharges which can lead to patients experiencing an increased risk of infection.
Ineffective wound diagnosis, leading to further problems, has resulted in hospitals and clinics facing an increased chance of litigation.
The Solution: Partner with A Wound Care Management Company
A good healthcare facility should have both the right equipment as well as professionally trained staff with the necessary expertise to evaluate and treat wounds. A hospital's choice to partner with a wound care management company, such as CūtisCare, alleviates many of the previously discussed difficulties faced by hospital staff and administration. We can offer flexible, customized healthcare solutions for wound care that will produce the highest performance of clinical outcomes.
CūtisCare can help facilities solve their patients' chronic wound problems by firstly conducting wound diagnosis that adheres to patient compliance, reducing the possibility of infection. In addition to offering first-class medical assistance and equipment, CūtisCare take care that staff are constantly up to date with latest wound care medical advancements with their continuing education program which strives to continue education for physicians and clinicians in partner hospitals.
With the services of expert wound care management companies available, medical facilities can now save money and time while simultaneously guarding their reputation. Call CūtisCare on 561-289-6827 to find out how we can best help your facility. Consider us an extension of both your healthcare administration and your hospital patient care team.