CūtisCare Continues to Champion Hyperbaric Oxygen Therapy (HBOT) for Breast Cancer Patients Battling Late Effects of Radiation

BOCA RATON, Fla., Oct. 9, 2023 /PRNewswire/ -- CūtisCare LLC leading provider of wound care management services to hospitals and physicians, is taking the initiative to raise awareness about the potential of Hyperbaric Oxygen Therapy (HBOT) as an adjunct therapy for breast cancer patients dealing with the late effects of radiation. Hyperbaric Oxygen Therapy (HBOT) is the CMS-approved, adjunct therapy of choice for those suffering from the late effects of radiation, that can expedite healing and alleviate the consequences of radiation therapy when used as part of a comprehensive care plan.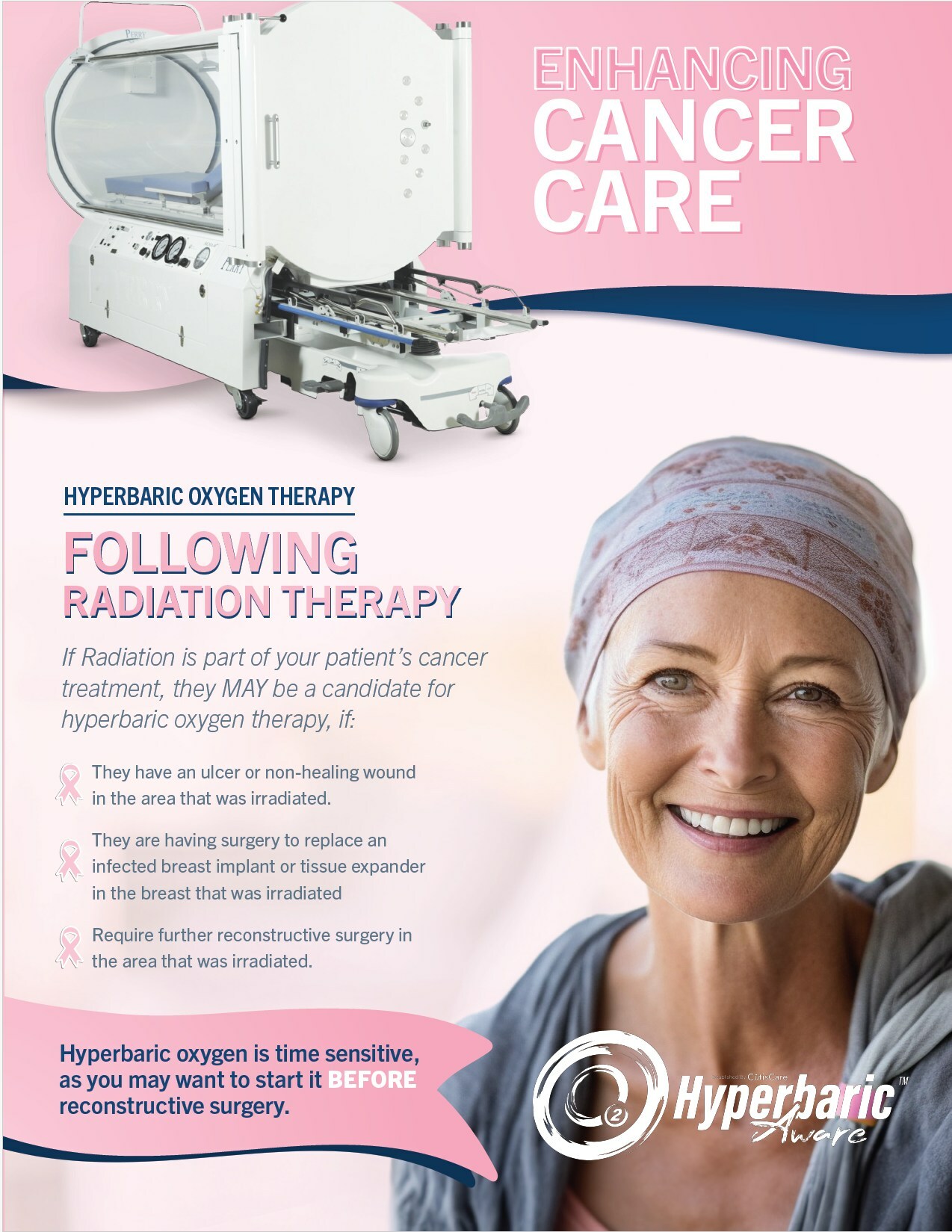 In a recent article, Hyperbaric Aware shed light on the challenges breast cancer patients face due to radiation therapy:
"Attempting a breast reconstruction with damaged, irradiated tissue can reduce your chances of healing. In fact, 30% of patients undergoing breast reconstruction immediately after a mastectomy develop partial loss of skin flap viability. Which can delay adjuvant therapy, require additional surgical procedures, and compromise aesthetic outcomes. Hyperbaric Oxygen therapy can help."
HBOT has demonstrated significant positive effects on the skin and blood vessels of breast cancer patients who have undergone radiotherapy or related surgeries like mastectomy and breast reconstruction. Radiation therapy can cause scarring and constriction of blood vessels, leading to tissue damage months or even years later. HBOT has the potential to be a transformative procedure in such cases.
The regenerative properties of HBOT promote blood vessel regeneration in previously irradiated tissue, potentially reversing some of the consequences of radiation therapy and reducing symptoms while accelerating the healing process. Thousands of patients dealing with radiation-related issues in the head, neck, bladder, intestine, and breast have experienced relief and improvement through HBOT treatments.
For breast cancer patients suffering from radiation-related sores, this breakthrough is an encouraging sign of hope. As we enter Breast Cancer Awareness Month this year, CūtisCare encourages everyone to stand up and support breast cancer survivors by raising awareness about the benefits of hyperbaric oxygen therapy. Throughout October, educational resources highlighting ways to mitigate the late effects of radiation and more information about HBOT's advantages can be accessed on cutiscareusa.com and our social media channels.
About CūtisCare
Headquartered in Boca Raton, Florida, CūtisCare works with hospitals, academic medical centers, hospital systems, and physicians to design customized outpatient wound care and hyperbaric oxygen (HBOT) solutions. With more than 25 years of management experience, a commitment to research, and driven by ethics and a culture of compliance, CūtisCare collaborates with its partners to reach and heal people with chronic wounds.