The Importance Of Accreditation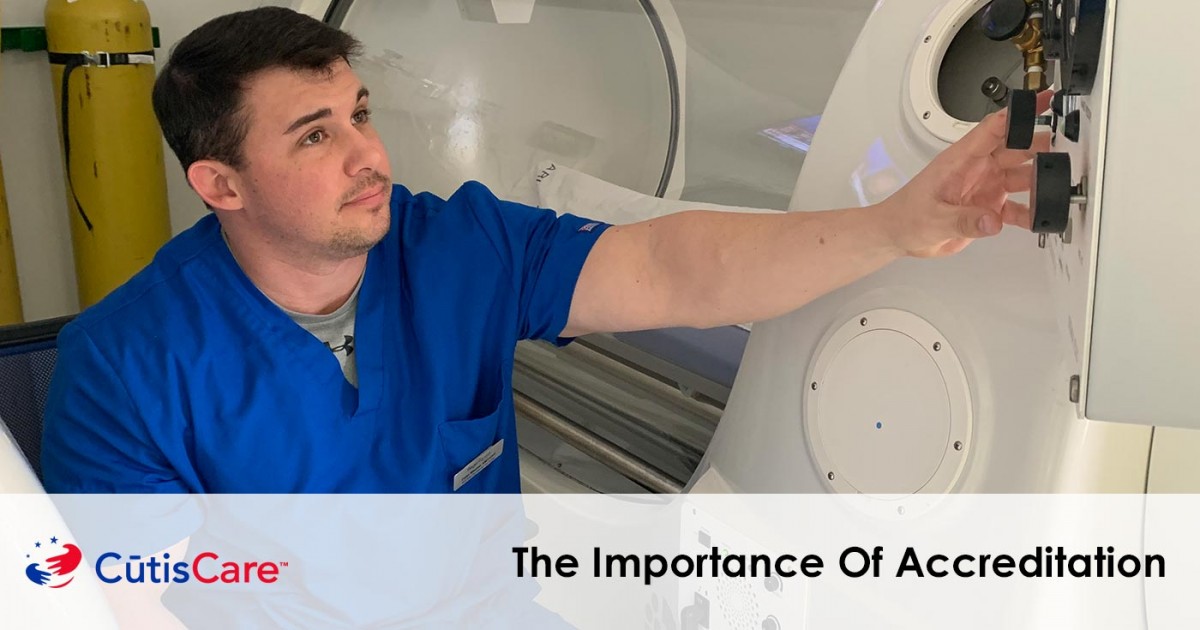 The Importance Of Accreditation
Reading Time: 2 minutes
Individuals and health care providers are now putting more effort into finding programs and centers that are accredited as it not only proves a facility's competency, but also shows their astute attention to proper health, safety, and welfare protocols. This is why we at CūtisCare believe in the importance of proper accreditation, including UCLA Hyperbaric Medicine at the UCLA Medical Center. However, to know what to look for in accredited centers, you must understand the importance and process of accreditation.
What Is Accreditation?
In the simplest terms, accreditation means that a specific facility has complied with the standards of an accreditation society through assessments of factors such as:
Staff
Facility
Equipment
Training
Advantages of Accreditation
Not only does accreditation show that our team is dedicated to providing the best service, it also provides a community of other like-minded centers and programs. Some other advantages of accreditation include:
Improved care from professional providers.
Motivated staff who uphold high standards.
Increased efficiency of the facility in compliance with accreditor's protocols.
Accreditation and Hyperbaric Medicine
For hyperbaric medicine, the golden standard of accreditation, as recognized by hyperbaric facility accreditation (HFA), is through Undersea & Hyperbaric Medical Society (UHMS), as it is "…the only hyperbaric specific accreditation to be recognized by The Joint Commission as a Complementary Accrediting organization under the TJC's Cooperative Agreement Initiative." Those who seek to be accredited by UHMS must:
Go through rigorous evaluations.
Have properly trained specialists.
Use correctly installed and maintained equipment.
Operate equipment safely.
Provide high-quality care to patients.
Keep proper documentation including:

Consent
Treatment procedures
Physician involvement
The Hyperbaric Medicine Center at the UCLA Medical Center has Level One certification. Hyperbaric accreditation through UHMS consists of four levels, each with different scopes of coverage. The four levels are:
Level One: Commonly hospital-based centers and programs that offer full hyperbaric services to patients. They must be able to provide treatment for "11 emergency life-or-limb-threatening injuries" while also being available for emergency treatment 24-hours a day.
Level Two: Commonly hospital-based centers and programs that offer a smaller scope of services to patients. They do not treat emergencies and are not available 24-hours a day.
Level Three: Programs which offer hyperbaric services not based in or affiliated with a hospital.
Level Four: International centers and programs offering hyperbaric services.
CūtisCare and UCLA
As with all our hospital partners, we pride ourselves with providing the UCLA Hyperbaric Medicine Center with our expertise to solve patients' problems. We offer strong partnerships that have proven to be both economical and profitable through our clinical services, advanced hyperbaric chambers, and continual education.
We provide individualized services that are based on the specific needs and goals of the center, which allows a working partnership that keeps the patients in mind. With our in-depth analytical approach, we are able to adapt to the changes to patient demographics and provide custom hyperbaric care to a full range of patients in top-rate centers.
By becoming accredited by UHMS, UCLA's Hyperbaric Medicine Center has proven through intense evaluation to meet the absolute highest standards of patient care and safety. This means that every aspect, from CūtisCare equipment to staff to training, has proven to be in compliance with providing quality hyperbaric medicine.
CūtisCare prides themselves on providing the very best in wound care and hyperbaric quality, which has been proven yet again with the accreditation of UCLA Hyperbaric Medicine Center. The completion of accreditation shows the importance of partnerships between CūtisCare and high-quality facilities.