Wound Specialists: What They Do & Why We Need Them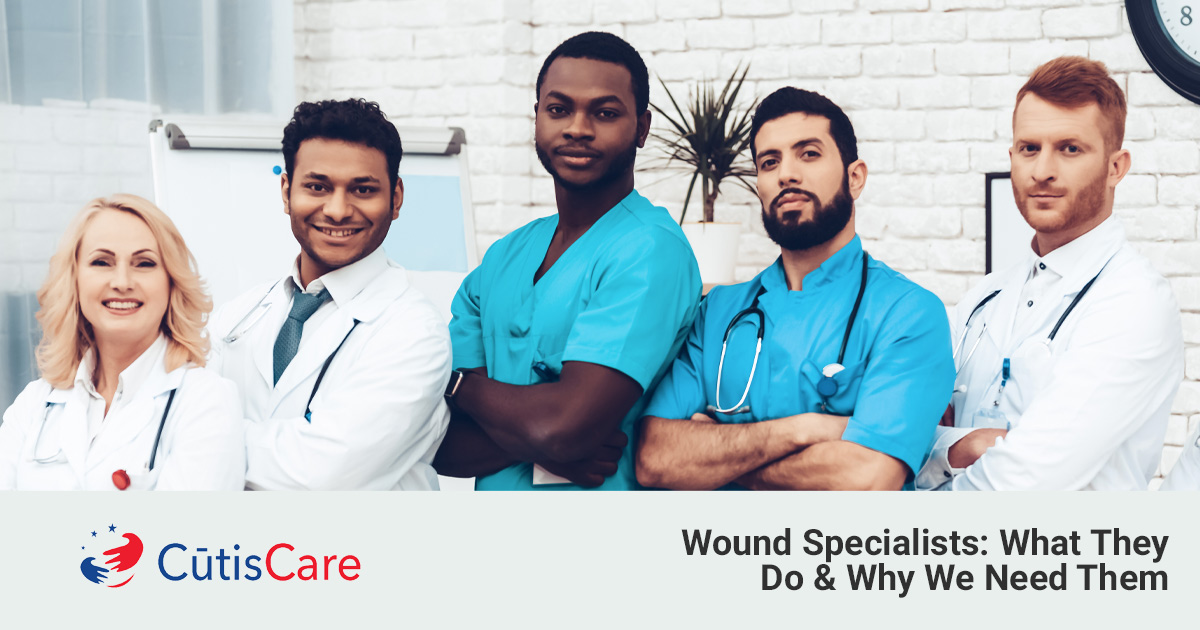 Wound Specialists
: What They Do & Why We Need Them
Chronic, non-healing wounds can be complex. And, if not treated properly — or in a timely manner — the risk of amputation increases. Other serious complications include infection, lockjaw, and fasciitis.
It's crucial that patients with non-healing, chronic wounds — such as those associated with diabetes — receive proper care. This not only includes treating the wound itself, but also addressing underlying conditions. 
Wound specialists are just that: they're dedicated to helping wounds heal faster, and heal properly. 
What is a Wound Specialist?
Wound specialists are healthcare providers and technicians with specialized skills and knowledge in wound care. Earning a specialist designation requires specialized training, three or more years of clinical experience with wound care, and passing a certification exam from the American Board of Wound Management (ABWM). 
How to Become a Wound Care Specialist
The AMBW offers three main Certified Wound Specialist designations: 
Certified Wound Specialist (CWSⓇ)
The CWSⓇ designation is for licensed doctors, pharmacists, nurse practitioners, registered nurses, registered dietitians, and other master's/doctoral-level providers with at least three years of clinical experience with wound care. 
Certified Wound Care Associate (CWSAⓇ) 
The CWSAⓇ credential is available for other healthcare professionals (such as technicians, LPNs, physical therapy assistants, dietitians, or even healthcare administrators and sales and marketing specialists). 
Certified Wound Specialist Physician (CWSPⓇ)
The CWSPⓇ is open to doctors of medicine (MDs), doctors of osteopathic medicine (DOs), and doctors of podiatric medicine (DPMs) who have three or more years combine experience in wound care management.  
To maintain their CWSⓇ or CWSAⓇ credential, wound specialists must earn continuing education credits (through classes, seminars and workshops) and, periodically, become recertified. 
With such rigorous certification requirements, it's clear that becoming a wound specialist requires not only experience, but also deep knowledge of all aspects of wound care, from anatomy and physiology and patient assessment to treatment management and medical ethics. 
Wound Care Is a Team Effort 
Several healthcare professionals bring their skills and talents together in order to create and manage a patient's treatment plan. A typical team of wound specialists will include: 
Physicians (in various specialties)

Nurse practitioners and physician assistant

Registered nurses

Physical therapists and physical therapist assistants

Medical technicians 

Dieticians
A Closer Look at the Wound Specialist Patient Care Team 
Let's take a closer look at a few types of wound specialists and the tasks and duties they contribute. 
Specialist Physicians
Physicians in a variety of specialties can be found on a wound care team including dermatologists, cardiologists, podiatrists, and cosmetic and general surgeons. Additionally, the patient's family doctor — usually the referring physician — will remain an integral part of the team. 
Nurses as Wound Specialists
Nurses play an incredibly important role; they typically have the most contact with the patients. They assess, monitor, clean, and dress wounds; offer health education and care instructions to patients and their families; and prepare reports, and communicate with physicians and other wound specialists on the team.  
Physical Therapists in Wound Care
Physical therapists, usually referred to as simply PTs, provide a range of specialized therapeutic treatments for wound care patients, including compression therapy and electrical stimulation. 
Medical Technicians in Wound Care
Medical technicians help physicians get answers. They collect, prepare, and analyze samples of blood and other bodily fluids and tissue. 
Dietitians and Wound Care Treatment
Because they understand the link between metabolism, medications, and nutrients, registered dietitians offer valuable insight to patients and the wound care team. They can assess a patient's diet and lifestyle, which then adds a nutrition element to the overall treatment plan. 
These are just a few examples; the realm of wound specialists includes many others, from the patient-facing professionals to administrators behind the scenes. 
Why Do We Need Wound Specialists?
Wound care specialists bring plenty of benefits to patient and provider. As noted earlier, the rigorous certification exams set extremely high standards for professionals working within this medical speciality. 
For patients, seeking treatment from a specialist over getting conventional wound care means access to the high-quality providers specifically trained in wound care. And thanks to ABWM's continued education and recertification requirements, wound care specialists will always be up to date with industry best practices and aware of the latest research, data, and treatment options. Additionally, being treated by a team of wound specialists also means access to resources and facilities that might not be available elsewhere, such as hyperbaric oxygen therapy (HBOT).   
On the health provider side, implementing a team of wound care specialists or even centralizing wound care operations (such as establishing a wound care center) is advantageous in many ways. More efficient care results in shorter patient stays, which reduces costs. Higher quality care results in higher patient satisfaction. 
What Role Does CūtisCare Play In Wound Healing?
CūtisCare offers comprehensive wound management solutions to help our healthcare partners improve and optimize their capacity to care for patients with chronic, non-healing wounds. If you're looking to establish a wound care center or want to evaluate your current operations, our wound specialists would be happy to help. Call today at 561-289-6827 or complete this form.